Blog
Best Grenade Spots on Dust 2 for CT-side & T-side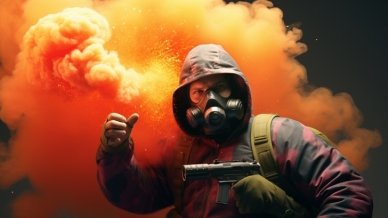 Do you feel the need to upgrade your game plan when playing Counter-Strike: Global Offensive Dust 2 map? Your aim stopped being an X-factor for stable rank boosting in competitive matchmaking? Then it's time to know more about the map and learn grenade spots on Dust 2 to surprise your enemies not only with sharp shooting.
This guide includes all the best grenade spots on the Dust 2 map that will help you and your team to win. We broke down all the key battle places and CS:GO tactics on Dust 2, also explaining some specifics of nades throwing to make you a better warrior in the game.
What You Need to Know for Effective Grenade Throws
Before going to the particular spots to throw grenades on the Dust 2, let's dive into some theories that can be very useful for CS:GO newcomers. Compared to the older game versions, the Global Offensive has a wider range of methods to throw a grenade.
Ways of Throwing CS:GO Grenades
There are six main types of how to throw a grenade in CS:GO, each of them having diverse lengths and trajectories: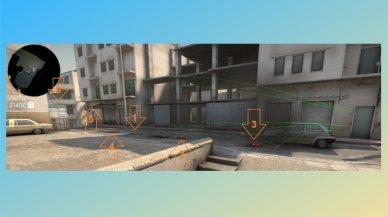 1.    Left Click
Simple grenade throwing when standing, with a common flying distance.
2.    Left + Right Click
A golden middle between the first and following options is mainly used for flashes that should fly a mediocre distance.
3.    Right Click
The ability to throw a grenade at the closest distance, which can be useful for self-pop-flashes or particular smokes.
4.    Run + Throw
That is also a common option for CS players, allowing them to throw grenades further than with a simple throw. Don't confuse it with the RunThrow bind, which means throwing a nade strictly after one step is done (it is used for specific spots and requires ideal precision, so it is rarely applied).
5.    Jump + Throw
While this looks like a simple game element in CS:GO, combining Jump and Throw should be made at specific timings, which is pretty hard even for professionals. So, both Pros and MM players use a particular bind, which allows combining those two simple actions. The nade flies at a much higher trajectory and passes a longer distance, which is even longer for smokes.
Since most maps have plenty of opened Sky Boxes, players can throw Smokes across half of the map that will lend perfectly. We recommend setting this bind via our separate tool, as plenty of grenade spots on the Dust 2 map require it.
6.    Run + Jump + Throw
While the realization of this combination is the most complicated, it gives perks in the form of a more rectilinear trajectory and the longest flying distance of any nade. Most often, its usage comes from Mirage and T-Spawn Smoke for the Window, while on the other maps, its use is much more rare.
CS:GO Dust 2 Callouts & Tactics
Another vital element before exploring the list of the places for throwing nades on Dust 2 is to learn the main Dust 2 callouts for overall better map understanding. For those who need a reminder with position names that will be used in the further text — here is a separate image: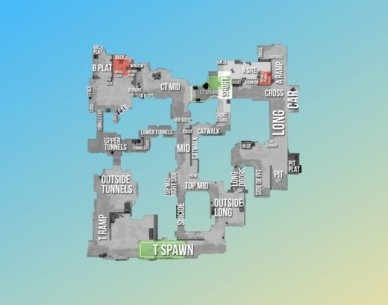 Also, we recommend reading our CS:GO Dust 2 Tips & Strategies guide[1] , which explains the main areas for the skirmish, timings, preferable weapons, and more. Another element to use is your logic and experience, which will help you find unexpected uses for all grenades. The third common piece of advice is to practice all those nades, as some spots are pretty cheeky and require high precision.
Now, let's get to what has brought you here — an extensive guide to grenade places on Dust 2, which will give main lineups and ideas.
Best Grenade Spots for T-Side on Dust 2
Since the basic idea of CTs is to defend bomb sites, the main creativity and movement should come from Terrorists. So, we'll start the guide from the T-side grenade spots on Dust 2.
Smoke from T Spawn to X-Box → Limit CT Mid Sniper Vision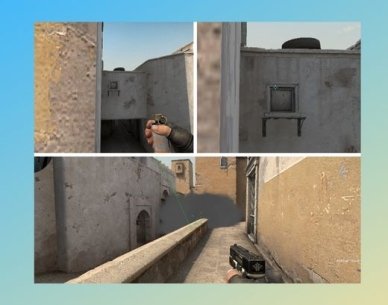 Coming close to the wall at the T-Spawn (so you can slightly see the wall left to the Suicide), aim at the point shown on the upper right screen. Then JumpThrow, and you'll get a stable smoke on X-Box for fast Catwalk and Short push or other tactics where a CT Mid sniper isolation is needed.
Molotov from Suicide to Mid Doors to Prevent CTs Push → Tunnels & Top Mid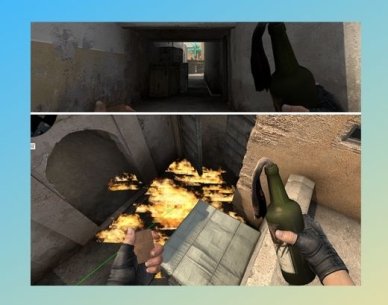 This will be the second-fastest T-side nade on the map, which is thrown from the Suicide. Jump to the latter, aim your Molly at the palm over doors, and Throw it after running a few steps to stop CTs pushing to the Top Mid or Lower Tunnels.
Smoke from Outside Long to Long Corner → Distract CTs on Long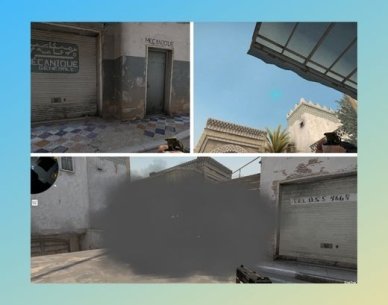 Another Dust 2 grenade point for early timings is the Smoke for the Long Corner to block vision for CTs. Find the shown corner near the Car Outside Long, aim as shown, and make a simple Throw. Your teammates pushing Long Doors will appreciate your knowledge.
Flashbang from Outside Long to Long (Over Pit) → Blind CTs on Long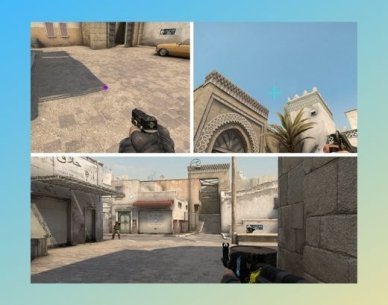 While it seems to be a simple grenade, many Ts throw it wrong when trying to assist teammates pushing Long. Thus, throwing it while running and jumping can blind even your teammates, but standing at the shadowed corner and a simple Throw to the shown position is a guarantee of effectiveness. By throwing two Flashbangs one by one from the same spot, you'll show your high gaming IQ and will blind CTs for about 5 seconds in a row.
Flashbang from Outside Long to Long Doors → Blind CTs on Long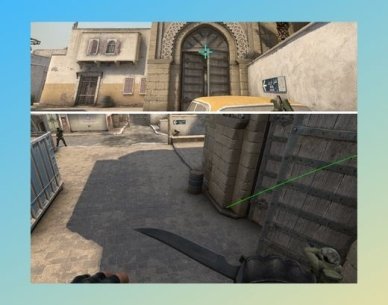 This is a good lineup for the later timings Long Doors taking. Aim as shown (aim above door gap) standing near the car, Throw, and the Long Corner, Pit, and even close Doors position will be blinded.
Molotov from Long Doors Barrel to Long Car → Burn Car Spot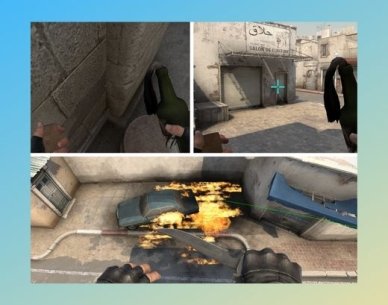 If playing against tough opponents and worrying a CT sniper on the Long Car controls you, that is a safe lineup for Molotov for that position. Jump on the Barrel near the Doors and find a corner, aim slightly higher than the door handle, and JumpThrow — this is one of the Dust 2 nade spots rarely known by matchmaking bodies.
Smoke from Long Corner to Cross → Limit CTs Vision from Short & CT Spawn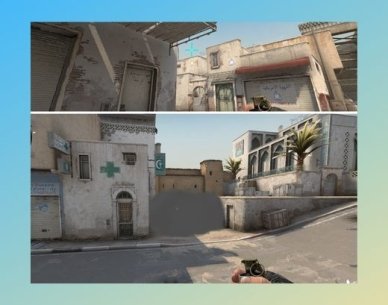 After taking Long & Pit positions, Ts should quickly take the A-Site, and that is the safe lineup for a Cross Smoke. Just aim over the painted tooth, Run, and then Throw, with the nade landing in the middle of the Cross, but be ready for the small gaps in the left and right corners.
Smoke from Long Doors to CT Spawn → Block Vision from CT Mid & Spawn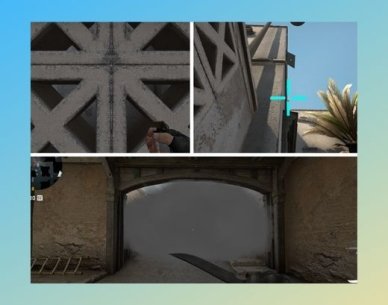 An advanced variation of the previous Smoke position that will cover the CT Spawn and Mid better but won't help against an enemy on the Short. Coming from the Long Doors, you should find a specific wall to the left, come close to its middle, then aim as shown and left-click Throw.
Molotov from Long Wall to A Site Double-Box → Burn Hiding CTs Behind Double-Box & Elevator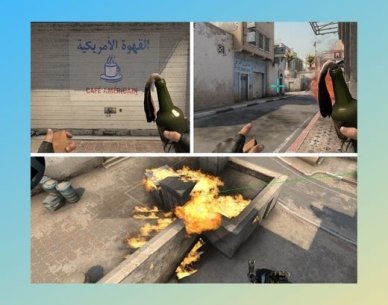 This is one of the best grenade spots for Dust 2, but still a rarely used Molly that can be thrown from the Long right wall. Come close to the painted cup, aim as shown (slightly over the handle of the door), and JumpThrow. The main perk is both Elevator and Double-Box won't be a place for CTs to hide.
Flashbang from Palm to/over Mid Doors to Blind CTs on Mid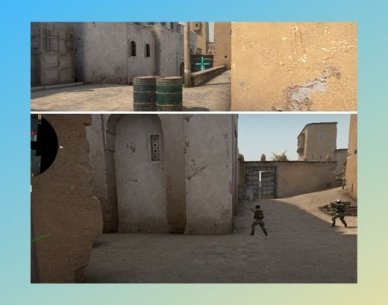 A simple Flash that can be Thrown when Running near the Palm position, aiming in the Mid Doors gap or even over it, but be ready for a CT sniper.
Flashbang from Catwalk/Palm to Catwalk/Stairs → Blind CTs on Short Stairs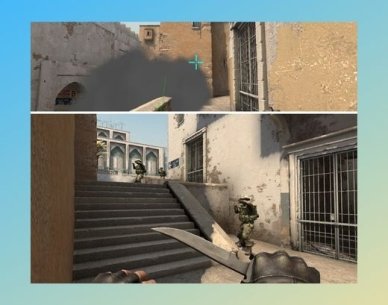 That's a perfect nade rarely used in MM but should be, especially for the Short push. After the X-Box smoke landed, you can safely run via the Catwalk, and closer to the gate on the right wall, use Run + JumpThrow. The main landmark is the small, opened window on the front wall, which is perfect for a 90-degree bouncing and blinding everyone around the Stairs.
Flashbang from Short Stairs over Wall → Blind A Site Defenders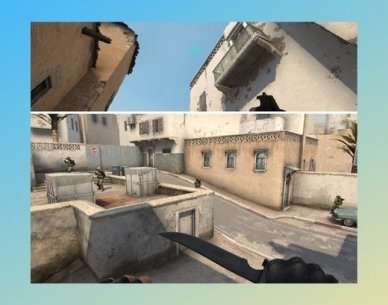 After taking the Short Stairs, there are still plenty of locations to check and neutralize on the A Site, and that simple RunThrow or even Run + JumpThrow Flash over the wall is pretty effective.
Molotov from Short Stairs to Goose → Burn CTs on Goose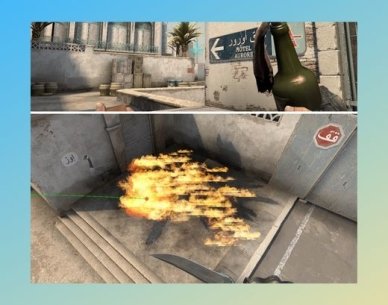 Since this Molotov requires aiming at the middle of the pillar (directly to the palms) and Run Throwing, you should be ready for an opponent waiting for such a move. But in the clutches or during retakes, this nade fries the Goose perfectly (sounds appetite, doesn't it?).
Molotov/HE Grenade from Short Stairs inside A Plant → Damage Hiding CTs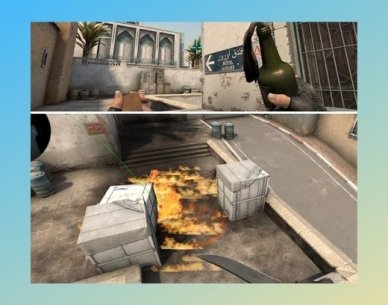 Another basic nade for taking the A-Site from the Short Stairs, but which can be thrown safely. Aim at the palm leaves without showing your body for the Goose player, and Throw after Running a few steps. A similar lineup is often used for HE Grenades, as the main idea is to damage players inside the A Plant.
Smoke from X-Box to CT Spawn → Blocks Vision from CT Spawn and Long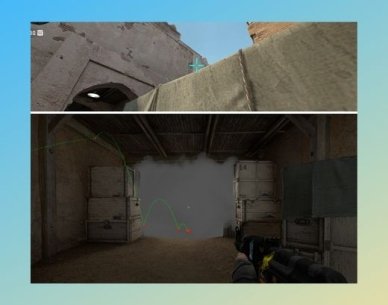 This one is for the Split B tactic, which includes a Smoke that can be simply Thrown from the X-Box corner, aiming at one of the dots on the depicted wall.
Flashbang from X-Box to Mid Doors → Blind CTs at CT Mid Positions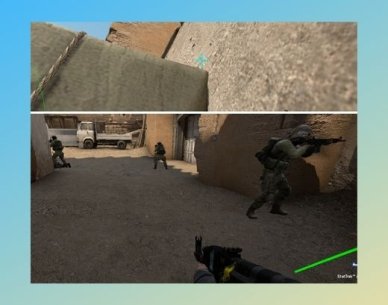 Standing in the same X-Box corner, you have one of CS:GO Dust 2 grenade spots for self-pop-flash that blinds everyone in close to the Mid Doors positions. Find a smaller dot above the X-Box right corner and left-click Throw — opponents will be blinded and disoriented.
Smoke from Upper Tunnels to B Doors → Block Vision for a CT Mid Player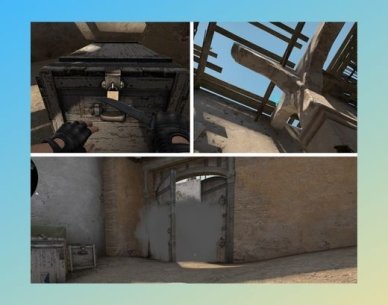 One of the simplest and easiest smokes for the B Doors can be thrown from the chest in the Upper Tunnels. Come to its lock, aim in the bottom right corner of the roof, and simply Throw.
Flashbang from Upper Tunnel via Roof → Blind B Site Defenders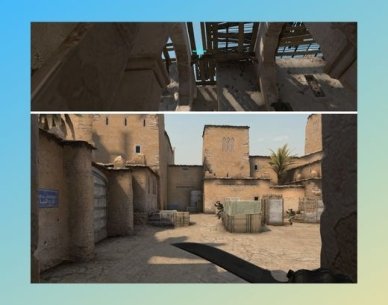 This Run + JumpThrow flash is good for both a solo B tacking and a team rush B tactic, as it blinds opponents on the plant and on the platform behind boxes. Still, defenders won't have white screens for long, while those playing near the Car or in the Closet won't suffer from it at all.
Flashbang from Upper Tunnel into Left-Side Wall → Blind B Site Defenders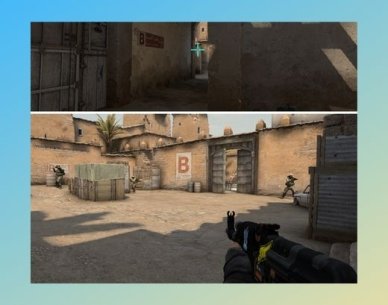 This is one of the best Dust 2 nade spots for a B rush, using the left wall corner (gate), which flashes the Plat and Car positions perfectly on the B and works well during rushes. Another value is the ability to Throw when Running to the B Site and have time to switch to your main weapon.
Molotov from Tunnels Exit to Back Plat → Damage CT behind Back Plat Box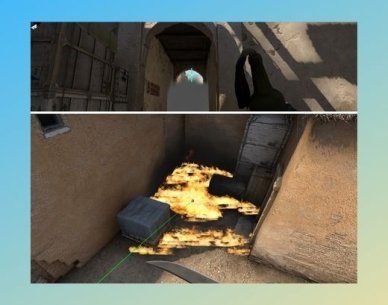 If you know that a CT sniper likes the Back Plat on B, you can distract him even with the smoke lying in the Tunnels Exit via right aiming and Run + Throw combination. Ideally, to make it on the last seconds of the smoke active phase to catch an AWPer rotating.
Molotov from Tunnels Exit to B Window → Block CT Help via Window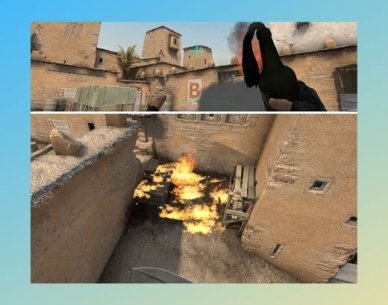 The last feature in the list of the top grenade spots in Dust 2 is the knowledge of how to burn B Window players. Thus, avoid aiming into the Window itself and use the back wall near the Woods. Simple Run and Throw from anywhere on the B Site guarantees the spread of the deadly fire.
Best Grenade Spots for CT-Side on Dust 2
If you think that learning only CT-side grenade spots on Dust 2 will be enough, you are mistaken. When you play any map in Counter-Strike: Global Offensive, knowing Terrorist nades means you can apply them when re-taking those spots being a CT. Still, there are some tricks on the Counter-Terrorist side as well, especially on early timings.
Flashbang from Cross to Long → Blind Ts Outside Box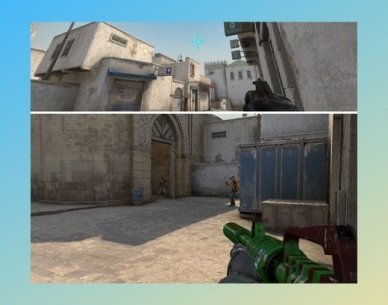 That is one of the variations for CT Flashes needed during the fight for the Long, which is simply Thrown after aiming, as shown from the Long Cross corner. The main feature is that the player who has a battle against the Long Doors or Blue Box won't be affected by it as it lands over him and from the back.
Smoke from Long Car to Long Doors → Block Vision from Box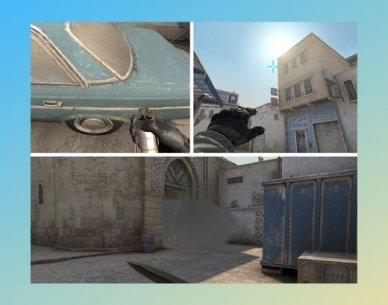 If the battle for the Long repeats from round to round, this early-timing Smoke will significantly increase CTs' chances of grabbing the position. Find the back wheel of the Long Car, aim as shown, and left-click Throw.
Flashbang from CT Spawn to A Ramp → Blind A Site Ts (Goose, Ramp, Long Car)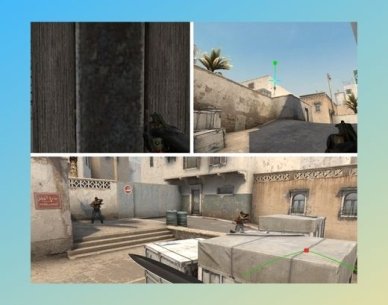 Since the A Site is easier to grab for Terrorists, knowing the best grenade spots in CS:GO Dust 2 to retake it is vital. That is one of the variations for the Flash simply Thrown from the pretty safe CT Spawn position, which blinds Goose and Upper Ramp players.
Smoke from A Site to Short Stairs → Isolate Ts Vision from Short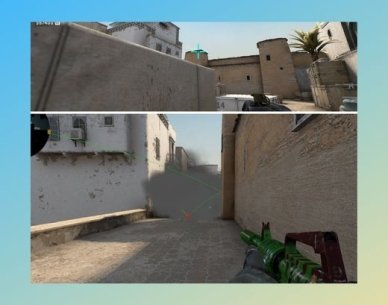 This is one of the best grenade places on Dust 2 for the A Site players who want to isolate vision for players on the Short Stairs. Stand in the safe corner behind the Single Box, aim as shown, and simply Throw the Smoke.
Flashbang from Catwalk over Walls → Blind Top Mid (Palm & Right Side)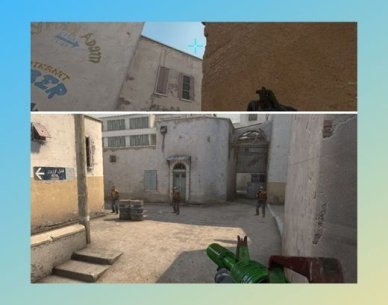 When playing the Catwalk position, the need to blind everyone on the Top Mid is vital, and this lineup is pretty stable. Standing on the Stairs, aim as shown (so the right wall eclipses the sun), and RunThrow, but be aware of closer positions and the Lower Tunnels that won't be blinded.
Flashbang from CT Mid over Mid Doors → Blind Top Mid (Palm & Right Side)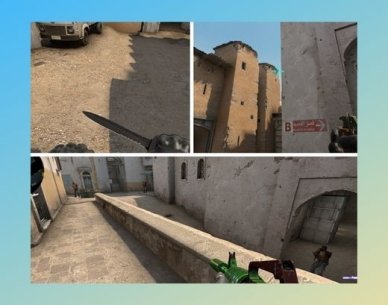 This is one of the best grenade spots in Dust 2 to assist your Catwalk player, especially if you are a sniper in the CT Mid. Find the shadow line, stand on it without showing your model via the Mid Doors Gap, and aim as shown. A simple Throw won't blind your teammate, while Top Mid and even close Lower Tunnels enemies will see white screens.
Smoke from CT Mid to Tunnels Exit → Isolate Easy Exit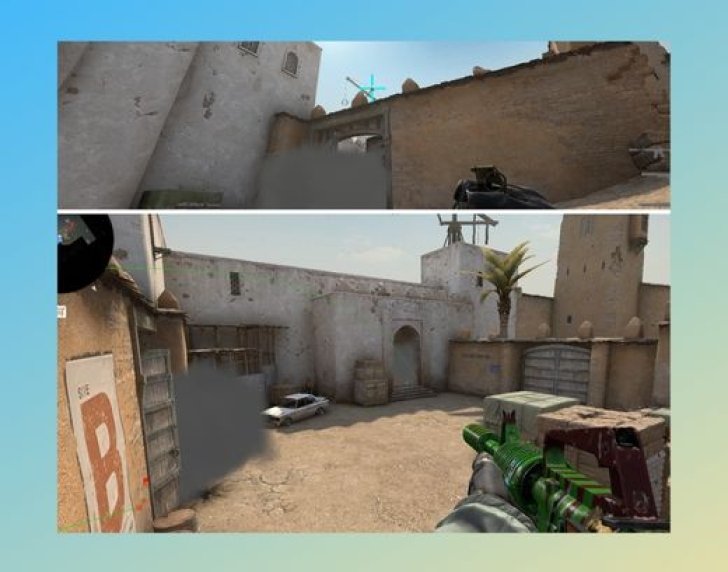 The B Site retaking starts by isolating the Upper Tunnels, which can be done even with the smoke in the B Doors. Standing on the bricks near the wall in the CT Mid, you can aim at the circle part of the construction crane and simply Throw a perfect Smoke.
Incendiary from CT Window → Burn B Site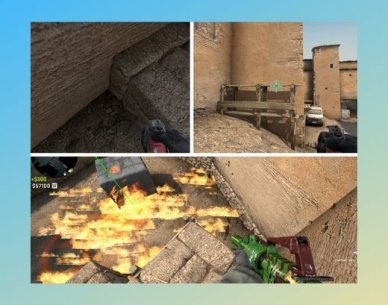 Another important nade for the B retaking that burns all close positions, which are hard to check at once. Arrive into the corner near the Window, aim as shown, and JumpThrow — in combination with flashes over the wall, some hiding Ts can even burn out.
Flashbang from CT Mid → Blind B Site Ts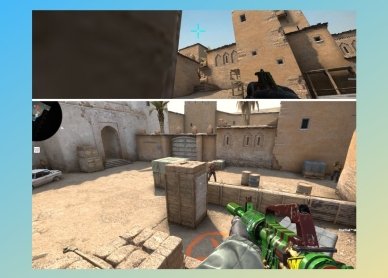 With dozens of Flashbangs that can be thrown over the B wall without particular spots to throw a nades on the Dust 2, this one is special. Thus, it will blind all the positions that cover Window-coming CTs, including close below the Window position. Stand in the corner close to the B Boxes, aim, and simply Throw.
After you know all the best places to throw grenades on Dust 2 map, we highly recommend launching the game to test all of them. Some positions are pretty cheeky and require training, but it is worth the result that can be seen in any MM game.
FAQ
How do I find the best places for throwing grenades on Dust 2?
To find the best nade spots on Dust 2, you have to play this map a lot, watch professional games, and be ready to spend quite a few hours testing grenades presented in this guide.
What are the best grenade spots in Dust 2?
Being a pretty open map, the best spots for grenades on Dust 2 are in the middle area, as you can impact many positions on other parts of the battlefield, making only a few steps.