Guides
How to Get Counter-Strike 2 (CS 2) Beta + Players Who Got Beta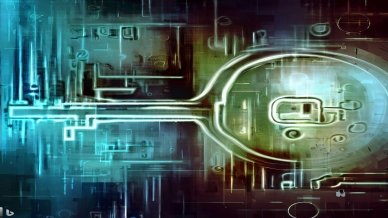 A limited beta-test run of the CS:GO sequel, Counter-Strike 2, is full-on right now, but only so many players can get their eager hands on it. At the moment, it is a very "close circle" type of deal, where the "worthy" players are picked by none other than the game's developers themselves. So this time around, there are no drops, giveaways, or keys to be reclaimed in order to try out Valve's latest creation. 
Well, they choose players somehow, right? How do you get Counter-Strike 2 beta and dive into the new CS early on? You (and your Steam account) must fit several criteria to be noticed by Valve. Not a lot of lucky players were enrolled in the beta during the first wave of invitations. But you still have all the chances as the servers become open to more new players over time. 
Let's figure out what influences your chances of being picked and how you can boost them.
How to Get Into CS 2 Beta (2023)
It goes without saying — a brand-new addition to the Counter-Strike series is a pretty big deal for competitive FPS players far and wide. This is exactly why this test run is so demanded. We have already seen a bunch of big influencers and pros receiving the beta invitation, which makes participation all the more premium and relevant for every other CS enthusiast. 
So, it may seem that you won't be able to grab a beta invitation unless you have a large audience interested in the topic. This is not completely true — it was so at the beginning, but the beta audience expands now across all regular players. So, how do you get a Counter-Strike 2 Beta if you're not a famous streamer? Well, it is all very unpredictable, still. At least, the process of how to get access to CS 2 is simple — just install the CS:GO and visit the game from time to time to see if you are the lucky one. Some factors though might influence your chances, which we'll describe below.
How to Check If You Have an Invitation to the CS 2 Beta Test
To be honest, currently Valve is quite random in their picks, which means pretty much anyone can get invited. It's high time you checked your own account for a possible invitation lying there:
View your Steam library and launch your free copy of Counter-Strike: Global Offensive (if you don't have one — download and install it). You can only get access to CS 2 Beta in the original CS:GO, which will be replaced by Counter-Strike 2 once it comes out.

Once you are in the CS:GO main menu, you will see a notification about the Limited Access beta. Provided you were selected, of course. 
This is what the invitation looks like, according to Valve's tweet.

Hit Enroll, and Counter-Strike 2 will start downloading. Right after that, you will get two options when launching your CS:GO — to play a plain old game or play a CS 2 beta.
This is how to get Counter-Strike 2 today. As for other factors impacting your invitation chances, let's take a look.
What Stats Do You Need to Get CS 2?
According to Valve's tweet, made during the beta's announcement, some of the key factors influencing your chances of being invited include:
Your recent playtime on the official Valve CS:GO servers
Overall status, karma, and activity on your Steam account ("account standing")
Trust factor (which is also shaped by your account activity and reputation)
This is the info we had from day one, but we still see many seemingly worthy players (with thousands of hours, tons of wins, and dozens of medals in the account) not getting an invite. 
But keep your head up, fellow gamer — Valve's release notes give us hope. The second wave should give average players more chances to dive in.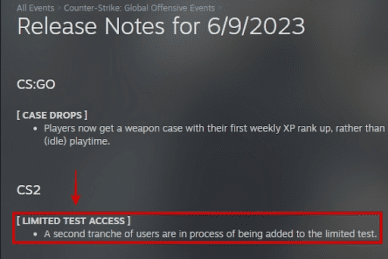 While you can only do so much, it is totally up to you to boost your chances of receiving CS 2 access. Here's what you can do.
Ways to increase the invitation chances
Play as much original CS:GO as possible, and do it on official servers. Double down on your playtime in both casual and competitive modes. Forget about community servers. Playing every day up until you see the invite pop up may do the trick in the long run. But this is only one aspect. 
Watch your in-game and community karma. Stay polite and easy-going when playing, as everybody should. Try to be a reliable teammate and ask other players to commend you. You may ask your friends to do that, too.
Keep your Steam account in check. Make sure it is free from VAC bans. You should be fine if you don't tend to use any trainers, cheat engines, or cheats, which are governed by the Valve Anti-Cheat system. You can check your VAC status here. 
What Pro Players and Streamers Got CS:GO 2 Beta?
A bunch of pro players, streamers, and former pros turned streamers have already got their lucky hands on the limited-access beta. You may follow their stream channels or social media to learn more about how to play a CS 2 Beta. Some noticeable players actively enjoying the latest CS include:
As you can see, all the above lucky owners of the limited beta have all essential stats in common — tons of playtime, loads of kills, and a firm in-game reputation.
Can I Get More Chances With a New Account?
All said and done, some players believe that registering a fresh account will bring them closer to a much-desired invitation. This can be true only in one case — if your existing account has a VAC ban. Or you are not entirely confident in its reputation, which shapes the trust factor. In all other cases, you are good to go and just play CS:GO a bunch until you gain beta access. 
Summary
This overview should give you a big picture of how to play a CS 2 limited test among other lucky players. Even though you may still not get your invite, Valve may just drop one for you any day now. And you get to increase your chances simply by playing a lot and doing it fair. 
The rest of the excitement to complete the picture is waiting for us in a few months when Counter-Strike 2 is released. Until then, good luck boosting your shooting ranks!
FAQ
What is the exact release date of CS 2?
Valve is still quite vague about the exact release date, promising to give us a complete Counter-Strike 2 sometime in Fall 2023. But the ultimate date that everybody in the community anticipates now is September 23. For now, the limited-access beta is the only way to see what the game looks like. Check out the tips in our article to learn how to get a CS:GO 2 beta.
Can I get access to CS 2 beta by invitation only?
The only way to access CS 2 beta is by invitation from Valve. The developers pick players based on criteria like hours spent on the official Valve CS:GO servers, trust factor, and account standing. But the hot tips should help you improve your chances. Learn more about how to get a CS 2 beta in our article.
What's new in CS 2?
The whole CS community is anxiously expecting a fully overhauled experience with tons of new gameplay elements, boosted graphics, updated and improved maps, and even a new core game engine. So we are about to get a new CS that not only looks but plays and feels completely different.
Will CS 2 be paid?
No, it will not. The game will replace the original CS:GO while staying free-to-play (and even retaining all existing weapon skins from the original). So, if you have the original CS:GO in your Steam library, you will automatically get the sequel once it hits the shelves. And if you know how to play the original, you know how to play Counter-Strike 2 from the get-go.
Will CS 2 be on consoles?
Unfortunately, no. If you wish to learn how to play CS 2 when it is released, Windows, macOS, Linux, and SteamOS are the only platforms to be supported. Valve is not looking to focus on the console audience with this one.