Guides
6 Best CS:GO Mouses & What Parameters are the Most Important?
When playing Counter-Strike:Global Offensive competitively or just for fun, your gaming setup can affect your enjoyment and even your skill level hugely. That's doubly true when it comes to your gaming mouse. There are a lot of considerations to make when purchasing a gaming keyboard and mouse, and in selecting your entire setup as a whole. In this article, we will explore a number of candidates for the title of best gaming mouse for use in Counter-Strike:Global Offensive.
There are many factors to take into consideration here, and they will not be the same for all players. Some players may like the flashy colors provided by certain mice on this list, meaning they should avoid mice such as the ZOWIE offerings here. Some gamers have small hands or large hands, and that is a consideration as well, as some of these mice are simply not compatible with gamers' hands if they are very large or very small.
The point is, whether you're looking for a mouse to go with the best gaming PC for CS GO or you're just looking for an everyday gaming device, many factors must be considered in making your decision. This list should help, and with finding the best gaming mouse 2018. It will do so by showing you the best CSGO player who uses each one, provided in a handy list right after each mouse listing.
What mouse parameters are important for a professional gamer?
First of all, gaming mouse for Counter-Strike:Global Offensive according to pro players need to have certain characteristics, which are important for playing. The combination of all factors will give your improvement in gameplay.
Comfort
Flexibility of configuration
Good sensor
Anti-slip surface availability
Very small response time (1ms)
Durability of mouse buttons
Easy-to-click mouse buttons
The above list is based on parameters and the preferences of pro players which we analyze from our base of CS:GO pro players' setups. But you need to remember that first thing you need to choose is a comfort for your hand form.
6. Logitech G Pro Gaming FPS Mouse with Advanced Gaming Sensor for Competitive Play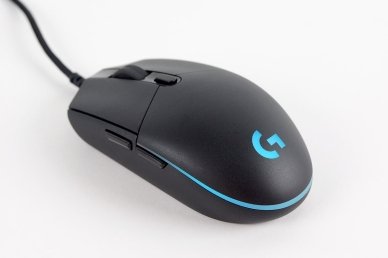 Specifications:
| DPI | Number of buttons | Size | Weight |
| --- | --- | --- | --- |
| 16000 | 6 | 116,6x62,15x38,2 mm | 86 g |
This mouse is hard to find and not currently available on some popular online stores, but it is certainly popular and well-reviewed. It features an advanced optical sensor that handles precision, using hand movements to help inform what's happening on-screen.
Gamers themselves, specifically professional gamers, helped design this mouse order to emphasize accuracy, precision and a lightweight design. Like several of the other mice on this list, this one boasts millions of color combinations. This also features DPI switching to provide a more customizable experience for gamers.
This is a smaller mouse, which should be considered when purchasing as a person with larger hands. Furthermore, some people report that it doesn't last all that long. It's a budget mouse, so this kind of low durability is to be expected, but it's still a consideration and a possibility that should be weighed.
You'll see a similar, wireless version next on this list. That's always a consideration as well. Wireless mice, much like the ones on this list, often boast that they have no lag. Many gamers will tell you that a wired mouse is better nonetheless, so it's up to you to try these mice to check and make sure they're right for you. A wireless mouse less unwieldy when it comes to portability, but even a tiny bit of latency can mess with your gameplay.
The best wireless charging mouse pad allows for uninterrupted gameplay, making it a must-have for serious gamers.
| Pros | Cons |
| --- | --- |
| Affordable | Small |
| Lightweight | Low durability |
Here is the list of professional gamers who use this mouse model
(The following information may be updated):
Investing in the best mousepad for CS:GO can offer you enhanced control and stability during critical game moments.
5. Logitech G PRO Wireless Gaming Mouse with Esports Grade Performance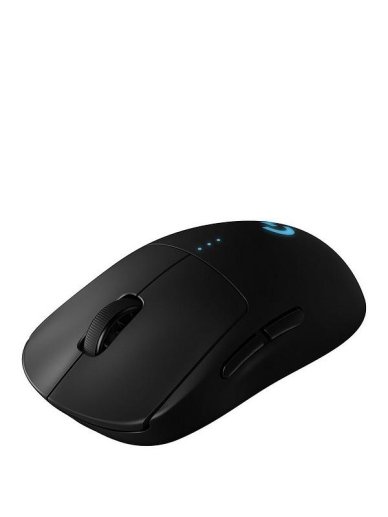 Specifications:
| DPI | Numbers of buttons | Size | Weight |
| --- | --- | --- | --- |
| 25600 | 4-8 | 125x63,5x40 mm | 80 g+10g |
Logitech's G Pro Wireless is a standard RGB gaming mouse, featuring 16.8 million colors in its backlight, programmable buttons and onboard memory. Logitech claims the Prodigy is eight times faster than standard mice, potentially, meaning the response on the screen is just about instantaneous — desirable for a wireless mouse, as this isn't always necessarily the case. Some features do require Logitech software, but not all.
The Prodigy also touts two own programmable lighting, comfort and accuracy, in addition to its lag-free wireless capabilities.
However, some reviewers report that the scrolling function on this mouse is not adequate. The mouse's firmware does not solve the problem as it normally would in a situation like this.
Pros

Cons

No lag

Potentially broken scrolling function

Very responsive
Here is the list of professional gamers who use this mouse model
(The following information may be updated):
4. SteelSeries Rival 3 Optical
Specifications:
| DPI | Numbers of buttons | Size | Weight |
| --- | --- | --- | --- |
| 8500 | 6 | 120.7x58.3x37.9 mm | 77 g |
The model offers many settings and its highly functional included software enables you to even load your custom settings table with your nickname.
This mouse is a more budget-centric option, and the reviews seem to reflect this. Users aren't as positive, but, as they say, you get what you pay for.
The Steelseries Rival Optic Gaming Mouse has an advanced optical sensor and the same number of RGB configurations as its other-branded competitors, but people with small hands should watch out. This mouse seems to not be for them. The Rival offers 6 programmable buttons and an adjustable response time with a minimum value of 1 ms. The model is equipped with an optical sensor that makes it a perfect solution for FPS games, such as the CS:GO.
Best mouse bungees are designed to prevent drag and tangling of the mouse cord, providing a smoother mouse movement.
Additionally, the grips on this SteelSeries mouse wear out pretty fast. The materials in general aren't all that durable, in fact. This means the mouse itself probably won't last you very long.
That said, there are a number of positive testimonies about this mouse to be found around the Internet. People like its shape and ergonomics, when it fits their hands, and the buttons are apparently very responsive, making them ideal if you're using this as a CS:GO gaming mouse. It's impossible to stress this enough: precision is key, and that means that responsiveness is just as important. Responsiveness leads to precision.
The model offers many settings and its highly functional included software enables you to even load your custom settings table with your nickname.
Pros

Cons

Looks beautiful

Grip wears out

Shape fits well with hands

Materials aren't durable in general

Advanced optical sensor
Here is the list of professional gamers who use this mouse model
(The following information may be updated):
3. Razer DeathAdder Chroma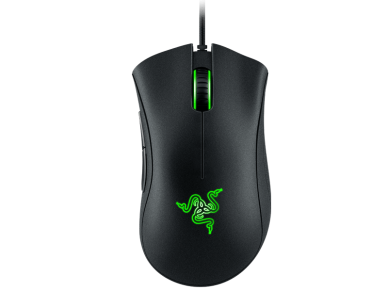 Specifications:
| DPI | Numbers of buttons | Size | Weight |
| --- | --- | --- | --- |
| 16000 | 7 | 127x70x44 mm | 105 g |
The Razer DeathAdder Chroma is considered one of the world's best gaming mice, and it is part of why Razer has become such a household brand when it comes to gaming gear. In fact, you can't really go wrong with buying any Razer gaming mouse, as they are considered top-of-the-line no matter which model you are looking at.
The DeathAdder Chroma is in a class of its own, however, as evidenced by its classy name. Many of Razer's products are considered flashy but not necessarily well-built products. Luckily for fans of the company, consumer testimony seems to suggest otherwise when it comes to the DeathAdder Chroma. The grip and feel are excellent, and the mouse is light and easy to move. While light, the mouse somehow manages to be durable as well, making it a versatile piece of gaming equipment for your setup.
The biggest downside to the Razer DeathAdder Chroma is the software that must be installed with it. Gamers report that this software, known as "Synapse," can be a bit annoying but also somewhat useful, as it provides statistics and heatmaps in order to track your individual play style. It's a requirement to use the mouse, however, meaning some find it annoying as they might not wish to use such software.
Choosing the top gaming mouse suited to your individual playstyle can greatly enhance your gaming performance.
Of course, the ability to customize the mouse's colors is a plus for many gamers who like to play in style. There are 16.8 million color customization options available via the Synapse program.
What is of the utmost importance for playing the CS:GO? The weight of the Chroma is very well distributed and balanced to ensure the maximum control precision. In addition, you can customize the color palette and button functions of the DeathAdder using the bundled software.
Pros

Cons

Fits both hands excellently

Synapse software is required, can be annoying

Very convenient to use

Software can have some advantages
Here is the list of professional gamers who use this mouse model
(The following information may be updated):
2. Zowie Gear (EC1-A/EC2-A)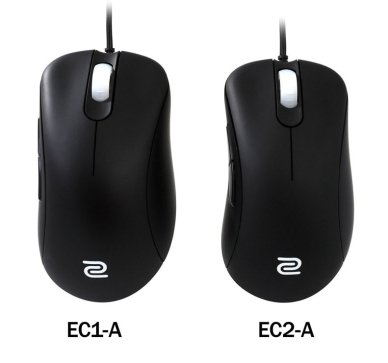 Specifications:
| DPI | Numbers of buttons | Size | Weight |
| --- | --- | --- | --- |
| 3200 | 5 | 128x69x43/120x64x40 mm | 99/93 g |
The BenQ ZOWIE EC2-A E-Sports Ergonomic Optical Gaming Mouse is a fantastic mouse that many gamers choose it as one of the top gaming mouses for Counter-Strike: Global Offensive. It features the much-desired Avago 3310 sensor in an ergonomically designed mouse, meaning precision is mixed with a great deal of comfort. It is a plug-and-play mouse, meaning no drivers are required, which makes it much easier to get playing faster. An important note about the EC2-A is that it has a low lift-off distance, which is a signature feature of all ZOWIE mice. This is the distance between the bottom of the mouse and the surface below it. Lower is better in gaming due to precision, and ZOWIE mice are perfect in this regard.
Zowie Gear EC1-A is a similar mouse, but many online suggest trying both the EC2-A and EC1-A, as they fit different kinds of hand grips. If your hand forms a claw grip, try the EC2-A, and if you use a palm grip, try the EC1-A. Or just order both and return the one you like the least.
Interestingly, the "EC" in the names of these mice stands for Emil Christensen, also known as HeatoN, a Swedish former Counter-Strike professional. He currently works as the head manager of the eSports team Ninjas in Pyjamas. This mouse bears his namesake, and for good reason: it's one of the best mice on the market for Counter-Strike:Global Offensive.
Christensen is widely considered the best Counter-Strike player of all time, and his line of BenQ mice came as the result of his popularity in the eSports community.
In 2018 BenQ ZOWIE stopped selling Zowie Gear EC1-A and EC2-A.
But new top gaming mice were introduced - Zowie Gear EC1-B and EC2-B. You can read our review of this best gaming mouses 
| Pros | Cons |
| --- | --- |
| Use one of the best optical sensors available | Users can't switch off the LED under the mouse wheel |
| Have a conventional design | Side buttons are not customizable |
| Multiple options for different hand grips | |
| Real plug-and-play solutions | |
Here is the list of professional gamers who use these mouse models
(The following information may be updated):
1. Zowie Gear Gaming Mouse FK1-FK2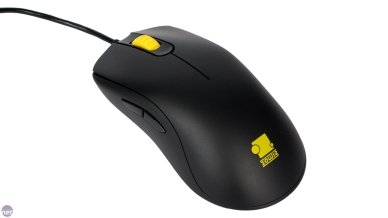 Specifications:
| DPI | Numbers of buttons | Size | Weight |
| --- | --- | --- | --- |
| 3200 | 5/7 | 128x67x37 / 124x64x36 mm | 90/85 g |
The FK1 and FK2 Gear Gaming Mouse models by Zowie will do just fine for playing the CS:GO. For these gaming mice you can switch between 400/800 / 1600/3200 DPI. The implementation of the Avago 3310 optical sensor allows user to do the aiming with great precision when playing the CS:GO. These models are designed for using with both hands, and what is also important, you can use Zowie Gear FK1 - FK2 comfortably even if you have big palms and long fingers. To resume, these two models are very well suited for playing CS:GO, DOTA 2, LoL, WoW and SC2 titles.
| Pros | Cons |
| --- | --- |
| About every aspect, except the cons | Side buttons may feel hard to click |
Here is the list of professional gamers who use these mouse models
s1mple for many years used this mouse.
(The following information may be updated):
Before we finish up here, it's very important to take note of a variety of different settings that will affect your gameplay outside of simply your mouse's choice. If you don't have these settings set at the correct levels, your gameplay will no doubt be negatively affected.
Keeping track of your gaming gear stats can help you optimize your gameplay experience.
CPI
The first of these settings to consider is CPI. This is sometimes referred to as DPI, which is incorrect. CPI stands for counts per inch, and that essentially refers to the number of counts a mouse will send to your operating system when you move it by an inch. If a mouse's DPI uses 800 CPI, it will move 800 pixels on the screen for every inch the mouse is moved. That basically means that CPI is proportional to how fast a mouse's in-game sensitivity is. Higher CPI doesn't mean better performance.
Finding the best mouse settings for CS:GO can significantly improve your in-game precision and response times.
Acceleration
Acceleration increases the speed of a mouse cursor's movement according to how quickly the mouse is moved. This can be helpful for some people but many professional gamers recommend turning off acceleration because it often works poorly despite good intentions.
Sensitivity
Sensitivity is perhaps the most well-known setting that can be changed when it comes to your mouse. There are a wide variety of different factors that affect a mouse's sensitivity, including turn circumference, turn radius, MPI, eDPI and more. It's important to research these factors yourself and play around with your settings in practice to see what's best for you.
Windows sensitivity
Windows sensitivity is specifically the Windows setting for sensitivity, which changes your mouse's sensitivity in every aspect of your operating system, not just CS:GO. Simply change your input to raw input in order to disable this setting's effect on your gameplay.
There are no magic numbers for these settings. Make sure you experiment and figure out what's best for you.
Well, there you have it. A gamer's equipment is very important to being successful in the professional gaming arena, and the value of a good mouse cannot be underestimated.
That said, it is very important to keep up on new releases, as these mice often have new versions released that improve upon previous models. For example, the G403 from Logitech seems to be being phased out, as it is not available widely around the net. Be sure to keep up on this and check online listings, as they are usually quick to note if each model has a newer version available. Newer versions often mean better versions, but not always. Checking reviews and articles like this one is as important as ever.
Furthermore, some of these mice are designed to work in conjunction with other pieces of gaming gear from the some companies, such as keyboards and mouse pads. This is also important to take into consideration, as you might own the best CS GO keyboard. Be sure to research CSGO pro sensitivity as well, in order to get your settings correct.
And finally, don't neglect the other factors that can affect your gaming performance when looking for the best mouse for cs go. Research the best PC for CS GO, along with the best resolution for CS GO and try to get your settings in line with CSGO pro settings. Do some extra research and get your mouse report rate correct, and make sure you find the best DPI for CS GO.
All mice do different things and are built for different kinds of gamers. Choose the one that's right for you.