Blog
10 Best Purple Stickers in CS2 That Look Great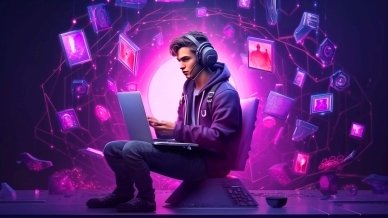 Welcome to the guide on one of the most played games in the universe's top-tier collectibles — Counter-Strike! We'll unveil the list of the best purple stickers in CS2  and what makes them the best — from their mesmerizing designs to their fascinating history. The stickers we've gathered are sought after by most players due to their exceptional blend of aesthetics, rarity, and creativity. Their ability to enhance weapons' visual appeal and add a touch of personalization makes them the top choice for players aiming to make a statement in the game, revealing not only personal preferences but also the style of the play. This makes them the best purple stickers in CS2 for professional players and enthusiasts alike.
| | | | | | |
| --- | --- | --- | --- | --- | --- |
| Rating number | Name | Collection | Type | Rarity | Release |
| 1 | Tyranids Hive Tyrant (Holo) | Warhammer 40,000 Sticker Capsule | Holo | Remarkable  | 2020 |
| 2 | Basilisk  | Bestiary Capsule | Paper | Exotic  | 2016 |
| 3 | Purple Jaggyfish | Riptide Surf Shop | Paper | High Grade | 2021 |
| 4 | Perry  | Sugarface Capsule | Paper | High Grade | 2016 |
| 5 | Master Guardian Elite (Holo) | The Skill Groups Capsule | Holo | Remarkable | 2018 |
| 6 | Dead Eye | The Operation Riptide Sticker Collection | Paper | High Grade | 2021 |
| 7 | Magic Rush Ball | The 10 Year Birthday Sticker Capsule | Lenticular | Extraordinary | 2022 |
| 8 | One Sting | The Feral Predators Capsule | Paper | High Grade | 2019 |
| 9 | Fearsome  | The Sticker Capsule | Paper | High Grade | 2014 |
| 10 | Smoke Criminal | The Boardroom Sticker Capsule | Paper | High Grade | 2022 |
1. Tyranids Hive Tyrant (Holo)
A truly crazy addition to your skins collection and purple CS2 stickers! With its various purple undertones and the fierce central posture of a Warhammer creature, this emblem exudes raw power. Its popularity speaks volumes on external marketplaces. Notably, this coveted item is proudly owned by the professional CS2 player ub1que.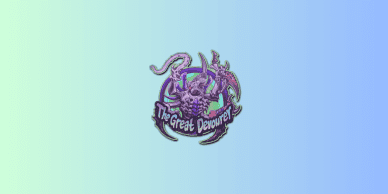 Starting Price: $1.07
2. Basilisk 
This sticker is truly captivating, elevating the beast's purple hide to a whole new level of vividness and allure. Its mesmerizing quality makes it hard to avert your gaze from the Basilisk, even though its eyes spell danger. It debuted in the Bestiary Capsule, coinciding with the "New CS2 Merchandise" update.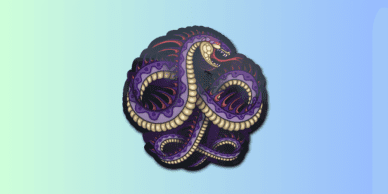 Starting Price: $7.76
3. Purple Jaggyfish
Unveil one of the top purple CS2 stickers, showcasing a fearsome piranha poised to become the ultimate game-changer. With its razor-sharp design and menacing demeanor, this piranha embodies the essence of an actual game killer. Embrace its power, let it fuel your gameplay, and rise to the challenge.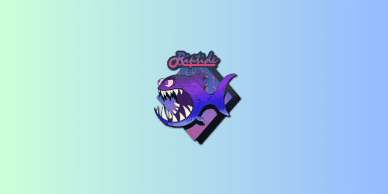 Starting Price: $0.85
4. Perry
An intriguing blend of an undead motorcyclist and Perry's green bandana sets him apart, making this sticker a standout addition to the coolest CS2 purple stickers. To obtain this distinctive figurehead, you should open a Sugarface Capsule container.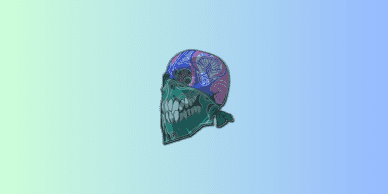 Starting Price: $0.32
5. Master Guardian Elite (Holo)
You may think it's hard to find good CS2 purple stickers, but this one is bound to capture your heart with its exceptional style and the endless creative possibilities it offers when combined with other stickers on your skins. The striking purple undertones, the menacing crossed AKs, and the fierce character at the center all come together to create one truly badass sticker. Its unique blend of aesthetics and potential for customization make it a standout choice for players looking to make a bold statement in the game.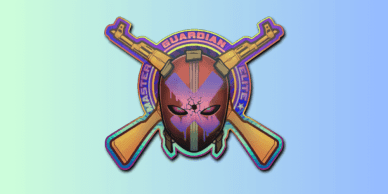 Starting Price: $1.00  
6. Dead Eye
The Dead Eye offers a sneak peek into your enemies' fate, serving as a tantalizing spoiler of their impending doom. Its intriguing blend of purple and orange hues and the shattered shot glass motif tell a tale of unparalleled accuracy and skill. Dead Eye' is not just visually striking; its unique feature lies in the intriguing hidden message that is revealed only when scraped to the minimum. And this best purple CS2 sticker is also for a great price.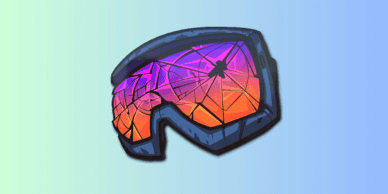 Starting Price: $0.53
7. Magic Rush Ball
This one, despite its rarity, boasts an impressive 85% popularity rating, placing it among the top 15% of coveted items in CS2 within the Steam community. Aptly named the "Magic Rush Ball," it showcases five mysterious, lurking heads poised to unveil their secrets. The question remains: are we rushing to adorn our weapons with this enigmatic emblem, or are we on a mission to thwart terrorists? Much like the Magic Rush Ball's intrigue, the answer remains shrouded in mystery.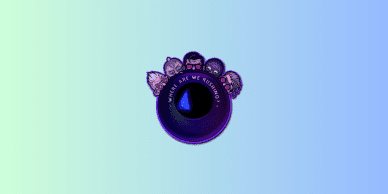 Starting Price: $30.05
8. One Sting
The One Sting is a vibrant addition to the list of the most awesome CS2 purple stickers, featuring an acid-colored scorpion, a testament to the game's diverse fauna. Its striking combination of purple, pink, and yellow injects a burst of color into any player's inventory. This captivating sticker debuted in the Feral Predators Capsule during the "EZ4VERTIGO" update. It's not just a sticker; it's a lively statement piece that adds vibrancy to your CS2 collection.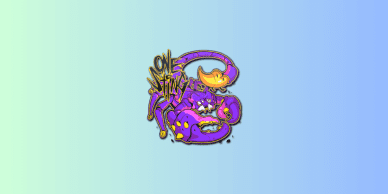 Starting Price: $0.27
9. Fearsome
This sticker lives up to its name with its imposing presence — a puma's fierce roar amidst a sea of flames sends a powerful message to the opposing team: Take this player seriously. It has a rich history, debuting in CS2 nine years ago on February 5th, 2014. It was introduced as part of the "Stick to your guns" update, leaving an indelible mark on the game's legacy. If you like old stuff and cats, catch your chance!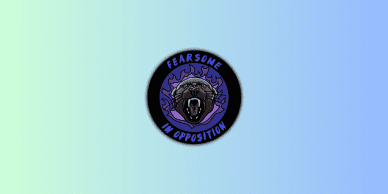 Starting Price: $0.66
10. Smoke Criminal
This sticker stands out as one of the cutest CS2 purple stickers. Featuring a purple, smoky cat, it exudes an irresistible charm. Some users liken it to Pokémon's Gengar, while others view it as a clever guide to becoming as elusive as smoke in combat. Smokey adds a touch of whimsy and mystery to your in-game weaponry, whether you're drawn to its cuteness or strategic connotations.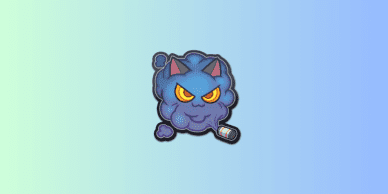 Starting Price: $0.76  
FAQ
How do you get purple stickers in CS2?
To acquire purple stickers in CS2, you can buy them from the Steam Market, open capsules during special events, trade with other players, or obtain them from tournament capsules. Sticker Crafting can also yield them by combining lower-rarity stickers.
What is the most expensive purple sticker in CS2?
CS2's most expensive purple sticker in CS2 is the "Team LDLC.com (Holo) | Katowice 2014." Its price on different marketplaces varies significantly, with listings ranging from $34,192.71 to as high as $105,577.70. Despite being old and not the best design, these  prices reflect its rarity and historical significance in the game's sticker market.